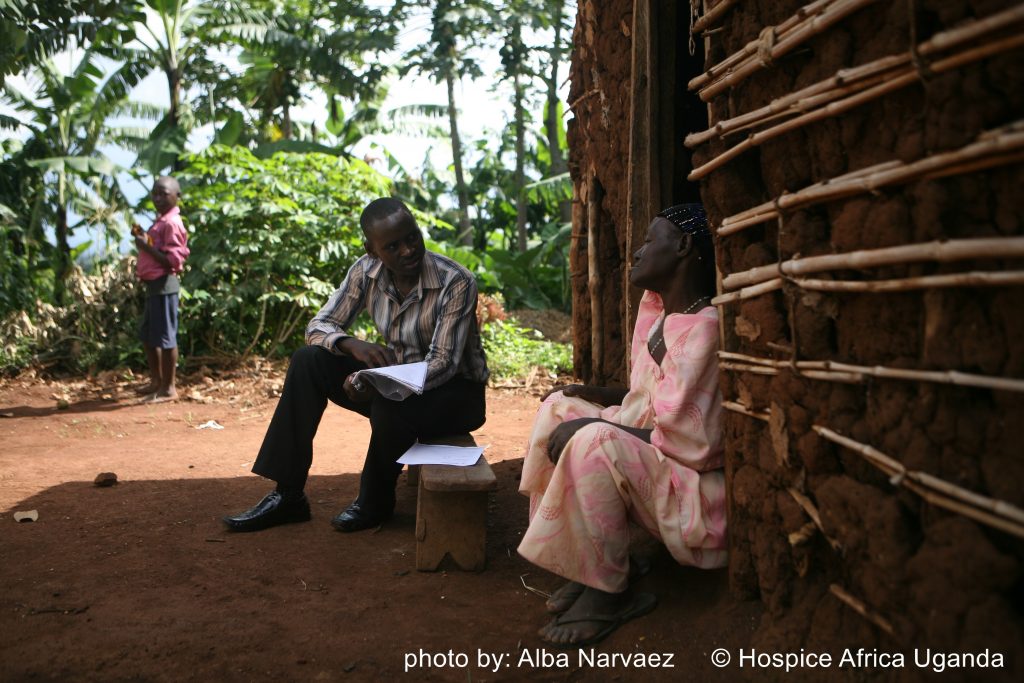 In 1992, Hospice Africa (HA) began as a small charity in Liverpool, U.K. The vision,"palliative care for all in need in Africa," was born from the founder's experiences in Nigeria in '60s, Singapore in the 80's and Kenya in the 90's, where she had witnessed intense unrelievable physical suffering.
At the time, Africa was facing an AIDs epidemic, doubling the incidence of cancer. Curative treatment was not an option for 95% of cancer patients; and less than 1% of cancer patients were cured due to inappropriate, inconsistent or late treatment. News of cancer and other sicknesses implied a death sentence- but worse than death, it meant a very painful death.
In 1993, Dr. Merriman and Fazal Mbaraka, a dedicated Kenyan nurse, conducted a feasibility study in 4 countries (Uganda, Kenya, Zimbabwe, Nigeria). Despite Uganda's recent war, public health crisis, and poverty – the people were incredibly kind, brave, caring of each other and welcoming to outsiders. Further, the country ranked low on the corruption scale, encouraging donor relations. For these and other factors, Uganda was selected as the country to build a model for the rest of Africa.
Access to Pain Control: However, before Hospice Africa Uganda could begin the Ugandan Government would need to support the importation of morphine powder, the main ingredient in oral liquid morphine, essential medicine for the management of severe pain in life threatening illnesses in low economy countries. After discussing the vision of HAU with the Minister of Health, Dr Makumbi responded, "Our people here are suffering so much from cancer and from AIDs. Please bring palliative care to our people".
In 1993, Dr. Merriman went to Uganda and started HAU with three nurses and three months worth of funding. Twenty-five years later (2018), HAU has cared for over 31,000 patients and Uganda has been internationally recognised as the only country in Africa with comprehensive palliative care by the WHO and WHPCA (World Hospice and Palliative Care Alliance 2016) and is now seen as the model for palliative care for African countries (Lien Foundation).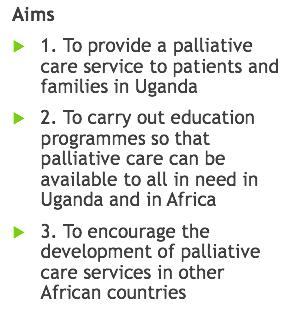 The "Merriman Model", the name given colloquially to the model promoted by Hospice Africa Uganda not only focuses on quality bedside care but also focuses on systemic change by integrating palliative care throughout the country through cultural and affordable care.
Quality Clinical Care: HAU now has three sites, Hospice Africa Kampala (1993), Mobile Hospice Mbarara (1998) and Little Hospice Hoima (1998), to demonstrate how the same mission could be delivered in different socio-economic contexts.
Care is provided mainly in people's own homes and at roadside clinics. The hospice ethos focuses on caring for patient and family. The ethos is captured by a comment from a patient's daughter, "We don't even call them doctors; we call them family members. The way they treat us is like family."
Training and Education: The vision and strategy for expanding palliative care throughout Uganda and other African countries is dependent on two primary factors: 1) access to oral morphine, and 2) education and training of palliative care professionals. Without the successful implementation of both 1 and 2, the system fails. It is easy to overemphasis lack of access to opioids during the time of 'opiophobia', however, without ensuring funding and education of health professionals, the the medical community will not effectively understand how to manage and control pain.
HAU provided training from the beginning. In 1994, HAU began providing tailored education and training programmes at Makerere University to medical and nursing students and expanded in 1995 to Mbarara University of Science and Technology (MUST). Since 2000, International Programs (HAU-IP) has supported the commencement of over 20 new initiatives in other countries by providing training and support introducing affordable oral morphine. HAU- IP has also trained over 30 African countries on the Anglophone (since 2009) and Francophone (since 2012) initiators course. HAU has been providing short and long courses since 1994 and in 2009, higher training was recognised as the Institute of Hospice and Palliative Care in Africa (IHPCA) by the National Council of Higher Education. In total, HAU and the IHPCA has trained over 10,000 health and related professionals.
Pioneering Initiatives in Uganda: The first country
to allow specially trained Nurses to prescribe oral morphine and
for a Government to provide free morphine to all who are prescribed by a registered prescriber.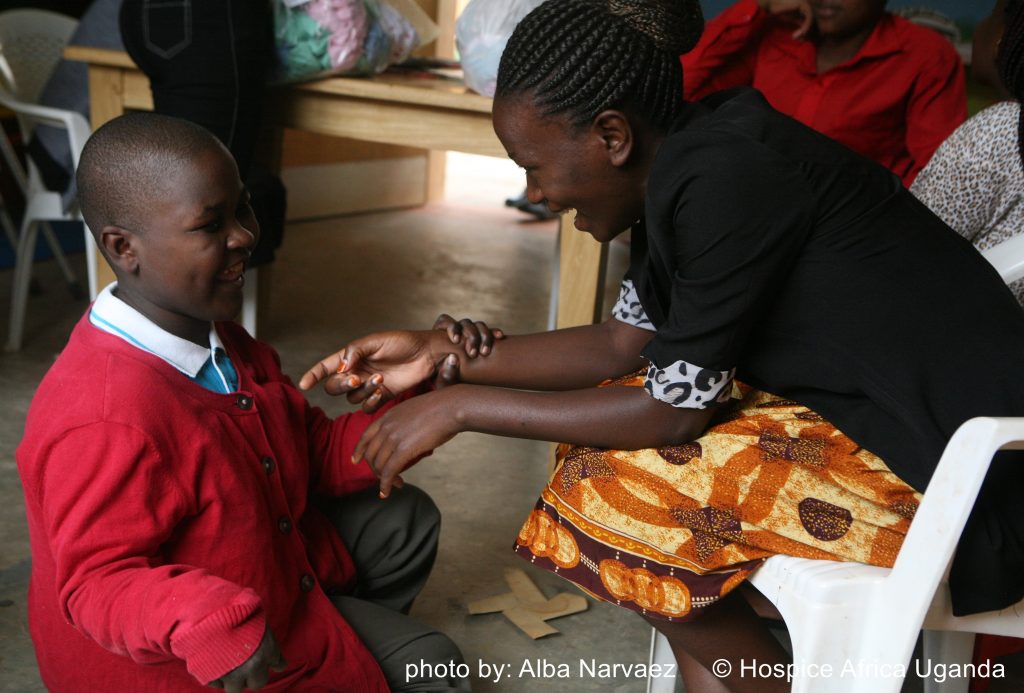 African challenges must be met with African solutions. In Uganda, doctor to population ratio is estimated as 1:19,000. Many rural areas are without a doctor. Access to morphine means access to prescribers of morphine, and initially only doctors were legally able to prescribe. Without a creative initiative, morphine would sit in storage rooms and people would be left in pain due to the lack of available doctors to prescribe.
In 2003, as a way to increase the numbers of patients receiving pain control, Uganda was the first country in the world, led by Dr. Jack Jagwe a dedicated team at the MoH, to change the statute that allows registered nurses trained in palliative care to prescribe morphine.
That same year, the Ugandan government made morphine free for it's citizens. This has continued up to today.
Hospice Africa Uganda: Continues to provides quality palliative care and training services. In 2018, it is celebrating 25 years of caring for those in need. Please support us in continuing to relieve the pain and suffering for another 25 Years. DONATE!