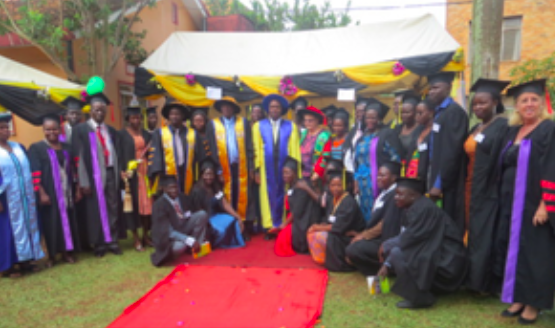 The vision of Hospice Africa was 'Palliative care for all in need in Africa'. This would only be possible if education and training became a core aspect of Hospice Africa Uganda's mission. Training began almost immediately upon arrival in 1993.
Hospice Africa Uganda developed an education department specializing in Palliative Care programs, currently referred to as the Institute of Hospice and Palliative Care In Africa (IHPCA). HAU began providing tailored education and training programmes to the medical and nursing students at Makerere University and Mbarara University of Science and Technology (MUST). Since 2003, HAU officially became affiliated to Makerere University.
In 2003, Uganda needed to increase prescribers. There is currently 1 doctor to 50,000 people and prescribing morphine does not always fall at the top of the priority list. As a way to increase the numbers of patients receiving pain control, Uganda was the first country in the world, led by palliative care advocate Dr. Jagwe, to change the statute that allows registered nurses trained in palliative care to prescribe morphine. HAU armed Uganda with newly trained professionals certified with the skills and knowledge necessary to prescribe morphine by offering a 1 year Diploma in Clinical Palliative Care (DCPC).
In 2009, the National Council for Higher Education (NCHE) licensed IHPCA as 'Other Tertiary Institution'. In 2014, the NCHE licensed IHPCA as a 'Degree Awarding Institution'.
From 1993 to 2018, over 10,000 health and non-health professionals have been trained through Hospice Africa Uganda's education programs.
Students have come from all over Uganda and other African countries, including: Botswana, Cameroon, Ethiopia, Malawi, Nigeria, Namibia, Kenya, Rwanda, Swaziland, Sierra Leone, Tanzania, Zambia, and Zimbabwe.
Programs include: MSc in Palliative Care Post Graduate Diploma in Pediatric, Clinical or Psychosocial Palliative Care. BSc, Palliative Care, Diploma in Palliative care, Diploma in Clinical Palliative Care, Health Professionals Course, Allied Professionals Course, Spiritual Advisors Course, Community Volunteers Workers Course, Traditional Healers Course, and Palliative Care Course for Initiators.
For More information Contact : educ@hospiceafrica.or.ug; ar@hospiceafrica.or.ug
Web: http://www.hospiceafrica.or.ug