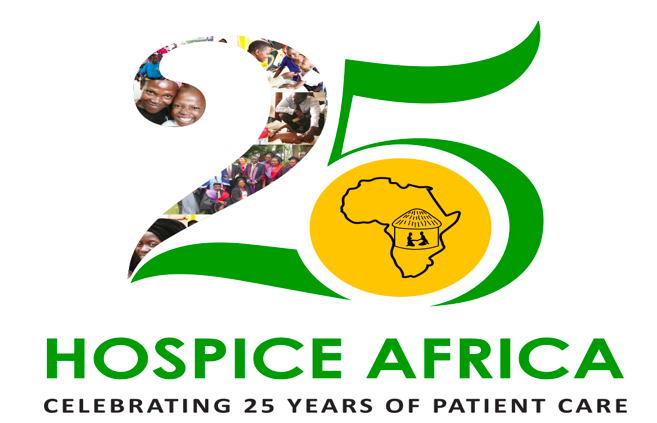 Hospice Africa has been caring for those in need for 25 years.
Please help this care move forward in the next 25 years. Click here to donate!
Hospice Africa Uganda, was founded by Nobel Peace Prize nominee, Dr Anne Merriman MBE with a vision of "Palliative care for all in need in Africa" in 1993. She has developed a model of palliative care which is now being adopted throughout Sub Saharan Africa.
25 Years of Highlights
Uganda has been surrounded with collaborative leaders taking innovative approaches to ensuring the people of Uganda no longer suffer.
Over 30,000 patients have been cared for, mainly in their own homes.
HAU has expanded to three hospice sites in Kampala (1993), Mbarara (1998) and Hoima (1998).
In 1993, after hearing about the vision of Hospice Africa Uganda from Dr. Merriman, the Ugandan political leadership, spearheaded by MOH Dr Makumbi, allowed the importation of the first stocks of morphine powder, which is crucial for the reconstitution of oral liquid opioid, the cornerstone medication for the management of severe pain in life threatening illnesses.
In 1994 HAU provided tailored education and training programmes at Makerere University to medical and nursing students.
In 1995, HAU also provided education and training programmes at Mbarara University of Science and Technology (MUST).
In 2000, the International Programs (HAU-IP) commenced visiting, training, and introducing affordable oral morphine to other countries. Over 20 initiatives have occurred in Anglophone and Francophone countries.
In 2003, as a way to increase the numbers of patients receiving pain control, Uganda was the first country in the world, led by Dr. Jagwe, to change the statute that allows registered nurses trained in palliative care to prescribe morphine.
In 2003, the Ugandan Government provided free oral morphine to the entire country.
In 2009, the Institute of Hospice and Palliative Care in Africa (IHPCA) was officially recognized by the National Council of Higher Education. Prior to, HAU had been providing short and long courses since 1994. In total, HAU and the IHPCA has trained over 10,000 health and related professionals.
HAU- IP has also trained over 30 African countries on the Anglophone (2009) and Francophone (2012) initiators course.
In 2011, HAU became the sole manufacture of oral morphine for the Country of Uganda.
In 2018, due to international programs and partnering organizations, over 20 African countries have affordable oral morphine.
Uganda has been internationally recognised as the only country in Africa with comprehensive palliative care by the WHO and WHPCA (World Hospice and Palliative Care Alliance).
Uganda is now seen as a model for palliative care for African countries. (Lien Foundation).