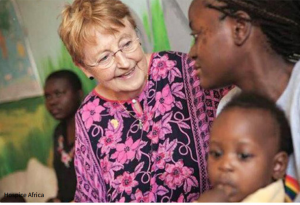 At the age of four, Anne told her mother, "I want to go and help the suffering of Africa when I grow up." Achieving such a goal would only possible with great passion, or as Dr. Anne puts it, "the fire in the belly". Fifty-five years later, Dr. Anne Merriman founded the first hospice in Uganda, and Hospice Africa Uganda now serves as an affordable and culturally acceptable model for the whole of Africa.
Born in Liverpool in 1935, since graduating as a medical doctor in Ireland in 1963, Dr. Anne has spent 38 years working in Africa (including 10 in Nigeria as a missionary doctor and 24 in Uganda), seven in Southeast Asia, eight in the United Kingdom, and five in Ireland. She introduced palliative care into Singapore in 1985, which became an accepted form of care with the founding of the Hospice Care Association in 1989, while Senior Teaching Fellow in the Department of Community, Occupational and Family Medicine (COFM) in the National University of Singapore. Today this service is one of the best in Southeast Asia. In 1990, Dr. Anne returned to Africa, initially to Nairobi Hospice, before founding Hospice Africa, introducing palliative care to Uganda in 1993.
Upon arriving in Uganda, Dr. Anne only had three months' worth of funding and a small team of three nurses. Despite the odds, and fortified by the 'fire' and a vision of physical and emotional peace for millions, such humble beginning would be enough to ensure its burgeoning success. This success was celebrated in 2013 when HAU reached its 20th anniversary. HAU had expanded to 130 staff, a 2.8 M Euro annual budget and three hospice sites in Uganda. The mission and vision extended beyond caring for those in pain but to also to provide training and teaching programs to professionals, as well as community and family members. The education section is now a recognised institute supplying degrees in palliative care to African countries. It is part of HAU but known as the Institute of Hospice and Palliative Care in Africa (IHPCA).
In 2015, a major donor finalised their 10 year grant which had contributed 60% of the funding. This happened at a time when the world recession was hitting the donors. Hospice Africa in Uganda has reduced the team to 75 between the 3 sites while caring for 2,000 patients mainly in their own homes in the poorest of communities.
Presently, Dr. Anne heads Hospice Africa's International Programs, supporting new initiatives in Tanzania, Nigeria, Cameroon, Sierra Leone, Malawi, Ethiopia, Zambia, Sudan and Rwanda. The International Programs hosts annual Anglophone and Francophone courses in Uganda. In 2017, the Francophone course hosted students from over 12 different countries.
———————————————————————-
Dr Anne Merriman, MBE[i] , MB[ii] , BCh, DCH[iii], DTM&H[iv], MCommH (Lpool[v]), FRCM (Nig)[vi], AM(Sing)[vii], FRCP (Edin)[viii], FRCP(Ire)[ix], Hon Fellow, (JMU)[x], Hon DSc[xi] (Edge Hill U), Hon Fellowship UCD[xii]
Nominated for Nobel Peace Prize, 2014
Founder and Director of Policy and International Programs, Hospice Africa Uganda
Honorary Teaching Fellow, International Observatory on End of Life Care in the Institute for Health Research, Lancaster University, UK
Honorary Professor of Palliative Care at Makerere University in Kampala, Uganda
Founder Member and the Founding Vice Chair of the Board of the Palliative Care Association of Uganda (formed in 1999)
Founder Member and the Founding Vice Chair of the Board of the African Palliative Care Association (formed in 2003)
Board Member of Hospice Africa UK and Hospice Africa
Past Board Member of the International Association for Hospice and Palliative Care (IAHPC)
Vice President for East Africa of the African Organizations for Research and Training in Cancer (AORTIC)
---
[i] MBE: Member of British Empire, honorary for contribution to health in Uganda.
[ii] MB BCh: Basic medical degrees in Ireland
[iii] DCH: Diploma in child health
[iv] DTM&H: Diploma in Tropical Medicine and Hygiene
[v] MComm H: Master's in International Community Health
[vi] FRCM (Nig): Fellow of the College of Medicine in Nigeria
[vii] AM(Sing ): Member of the Academy of Medicine in Singapore
[viii] FRCP (Edin) Fellow of the Royal College of Physicians in Edinburgh
[ix] FRCP(Ire): Fellow of the Royal College of Physicians in Ireland
[x] FJMU: Fellow of John Moores University Liverpool- for her contribution to the relief of pain in the world
[xi] DSc(Hon): Honorary Doctor of Science at Edge Hill University, Liverpool- for her contribution to palliative care in Africa
[xii] Honorary fellowship from University of College Dublin for her accomplishments in palliative care